Durable Dental Implants in Oklahoma City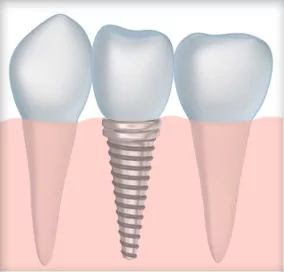 One of the questions that many of our patients ask is, what are dental implants? Dental implants are miniature posts that serve as replacements to your natural tooth roots. Dental implants, which are normally made of a titanium alloy, are bonded together with the supportive bone tissues of your jaw to form a very sturdy and long-lasting base on which artificial teeth (dental crowns, dental bridges, dentures, etc) can be placed.  Our caring team near Moore OK can help you determine if you are an implant candidate here
Mini Implants Near Oklahoma City OK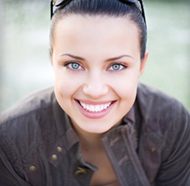 Another variation of titanium dental implants are mini implants. Mini implants are essentially the same thing, except they are smaller in size. Mini implants are often used when the natural tooth root being replaced is smaller or the implant needs to fit in a tighter space. Since mini implants are smaller, the mouth can recover more rapidly after the procedure.
Another amazing thing about the titanium used in titanium dental implants is that it has the greatest strength-to-weight ratio of any known metal on earth. As such, titanium dental implants barely weigh anything yet are incredibly strong. Many people who get titanium dental implants don't even feel that the dental implants are there. Still unsure which options are best for you? Speak with our well-trained staff serving the Oklahoma City OK area.
Quality Implant Dentistry For Moore OK
If you have any missing teeth or damaged teeth, consider titanium dental implants. Not only do they make your teeth look natural, healthy, and complete again, they also osseointegrate with the jawbone tissues. What this means is that the dental implants quite literally "become one" with the jawbone tissues to make your teeth as durable and strong as your natural teeth. An amazing service we offer in our facility close to Moore OK, is that of All On 4 Teeth In A Day – getting you a new smile, fast!
Now you no longer need to ask "What are dental implants?" but "Which titanium dental implants are right for me?". So if you're truly interested in renewing your smile call Dr. Phan and Dr. Murray to find out more about titanium dental implants and mini implants! Save time when you make a trip from Norman OK, Moore OK, or wherever you call home, one call does it all at OKC Smiles!
Implant Supported Dentures
If a bridge or individual implant and crown aren't enough to complete your smile, you may want to consider implant-supported dentures. This approach can still provide you with the benefits of implants while replacing all your teeth with a new and beautiful set of natural-looking teeth.
If you have missing teeth that you want to do something about, consider a multiple tooth replacement procedure from the OKC Smiles Team. Don't worry, you will be in good hands!