Before the invention of dental implants, there was no accessible permanent solution for people who have lost all their teeth. Many people opted for dentures (the common false teeth option) that were temporarily attached to their gums with a special kind of adhesive.
Drawbacks of Traditional Dentures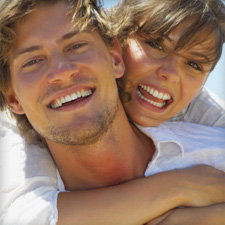 At first, dentures looked great. They replicated natural teeth and looked nice. After a while, however, the shortcomings of traditional false teeth (dentures) become more obvious.
These types of false teeth dentures, for example, had to be constantly removed and then cleaned during meal times. In addition, the dentures would sometimes suddenly slip off and be a major cause of embarrassment. Often the lack of teeth roots caused the jaw bone to deteriorate and recede, leading to the "sagging and bagging" of the face now associated with traditional dentures.
With the advances in the field of dentistry and dental implants, it is now possible to replace your missing teeth with implant supported dentures that are long-lasting, sturdy, beautiful, and best of all, natural-looking.
Implant Supported Dentures
Implant supported dentures, as the name suggests, are artificial teeth attached to your gums with dental implants. Implant supported dentures do not merely rest on the gums like traditional false teeth dentures, but rather they are firmly locked in place with the help of these incredible dental implants.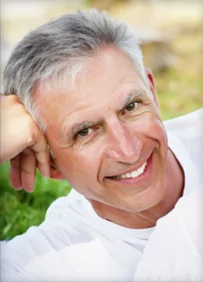 Our Oklahoma City Smiles team understands the physical and emotional need for a full and attractive smile. We also know the importance of having dentures that preserve the natural foundation of your face and do not suddenly slip off. We have therefore invested in the training, equipment and resources needed to offer top-quality implant supported dentures and other solutions utilizing dental implants. We make sure that each patient is able to capture that beautiful smile that they truly deserves.
If you're tired of traditional dentures and looking for a new and advanced solution call us today to learn more about implant supported dentures solutions. We offer different types of implant supported dentures and most likely have a fantastic solution perfect for you.