Implant Denture Smile Restoration In Oklahoma City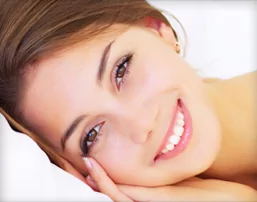 Are you tired of your dentures suddenly falling out and embarrassing you? Are you worried that your face would deteriorate and sag due to the lack of tooth roots? In this day and age, and with all the technological developments in the field of dentistry, you shouldn't be bothered by these questions.
Dentures have taken a great leap forward with implant-supported permanent dentures. Implant-supported dentures are a fantastic solution you can get near Moore OK to help you finally overcome the constant drawbacks of traditional dentures.
How Can Implant Dentures Help Me?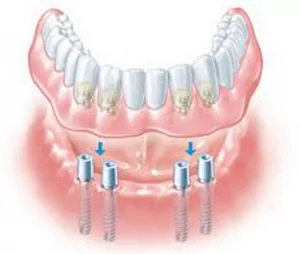 If you're missing all or most of your teeth, you probably have tried regular dentures. If that's the case, you might have noticed that your dentures tend to slip while you're eating or talking. They also require a lot of maintenance to keep them clean.
Permanent dentures with implants aren't so inconvenient. They can
Provide a Stable Chewing Surface: You can eat just about anything with implant-supported dentures without worrying about them slipping off your gums.
Be Easily Cleaned: Instead of rinsing your dentures in a special solution, just treat them like your natural teeth and brush and floss every day.
Strengthen Your Jaw: When you lose teeth, your jaw loses the necessary stimulation from the roots of those teeth. The implants in your dentures act like those roots and strengthen your jaw.

The Permanent Dentures Implant Treatment

At its very essence, the permanent dentures system uses traditional dentures with dental implants. Oklahoma City dentists Dr. Phan and Dr. Murray make use of miniature posts that are implanted into specific sections of your gums.

These implanted posts, which can be as few as 2 or as many as 6, will serve as the main foundations of the dentures that will be snugly attached to your mouth. Our system assures that your dentures with implants are securely locked into place to avoid unwanted and embarrassing denture slippage.

An additional benefit of dental implants is they also act as tooth root replacements. Dental implants help prevent the nasty side effects of missing or damaged teeth like sagging cheeks and bone loss that ages your face.

Types of Implant Dentures

Each patient situation is different, so we try to keep your options open so you can choose the one that works best for you. Here are the types of dentures with implants we offer at OKC Smiles:

Hybrid: Usually hybrid dentures are placed on just four implants. The implants provide stability and permanence to your dentures.
All-on-X: These dentures are more versatile. We can adjust the number of implants from 2 to 6 based on how many teeth you need to replace and the strength of your jawbone.
Removable: It is possible to get implant dentures that snap on and off. This is useful for cleaning your dentures and your gums.

Implant Dentures at OKC Smiles

Not only do we provide the dentures at OKC Smiles, but we can perform all your surgeries too. We can take care of the entire process right here. One convenient location, amazing results.

Surgery Concerns

If you are even a little concerned about oral surgery for implant placement, please let us know! If the standard anesthesia options aren't enough for you, we have sedation dentistry options that can help you feel more relaxed and comfortable during the procedure.

Contact Us Today

Contact Dr. Phan and Murray's team today so that you too can obtain the benefits of implant-supported dentures with dental implant technology! Our team has got you covered! Choosing the right implant dentist near Norman OK and surrounding areas is important. We hope you will choose OKC Smiles for our quality care and attention to detail.